Now that it is getting dark outside and the temperature is slowly dropping, all we need is a comfortable and warm interior. Normally, the new models of the well known interior brands are presented in April at  "Salone del Mobile" in Milan. This year things went differently and the brands launched their new collections in their own way, spread over 2020.
With the winter just around the corner, this is the perfect time to get to know the Italian design brand Moroso. Get inspired by the new sofas, chairs and tables that have expanded the Moroso collection. Moroso was founded in 1952 and is convinced that art, culture and fashion in combination with design is a great stimulus for design. As a result, all Moroso products are distinctive and worth discovering because of their own story. Moroso has always remained a sewing workshop and the furniture is handmade in Italy. The components, such as the bases, the fabrics and the wood all come from the region of North-East Italy.
Moroso asked the Spanish designer Patricia Urquiola, who has become an indispensable part of the Moroso design team, to design the new 2020-collection. Art Director Patrizia Moroso has been working with her "best friend" and business partner Patricia Urquiola since its inception and this collaboration has resulted in many design classics, such as the Fjord, Lowland and Gentry. This year the ingredients for a completely new seating area have been added to the collection: a sofa, armchairs and a coffee table.
The Gogan sofa and accompanying lounge chair owe their name to Japanese stones that are formed into all kinds of round shapes by the flowing water. By playing with gravity, it looks like the sofa is floating. To complete the Gogan family, a coffee table has also been added. Recognizable by the coarse legs and the top in the same round asymmetrical shapes. For the design of the Ruff & GetLucky armchairs, Urquiola found her inspiration a little closer to home, namely from the Spanish sculptor Eduardo Chillida. The name Ruff comes from the large collars from the 16th century. The GetLucky chair has the shape of a horseshoe.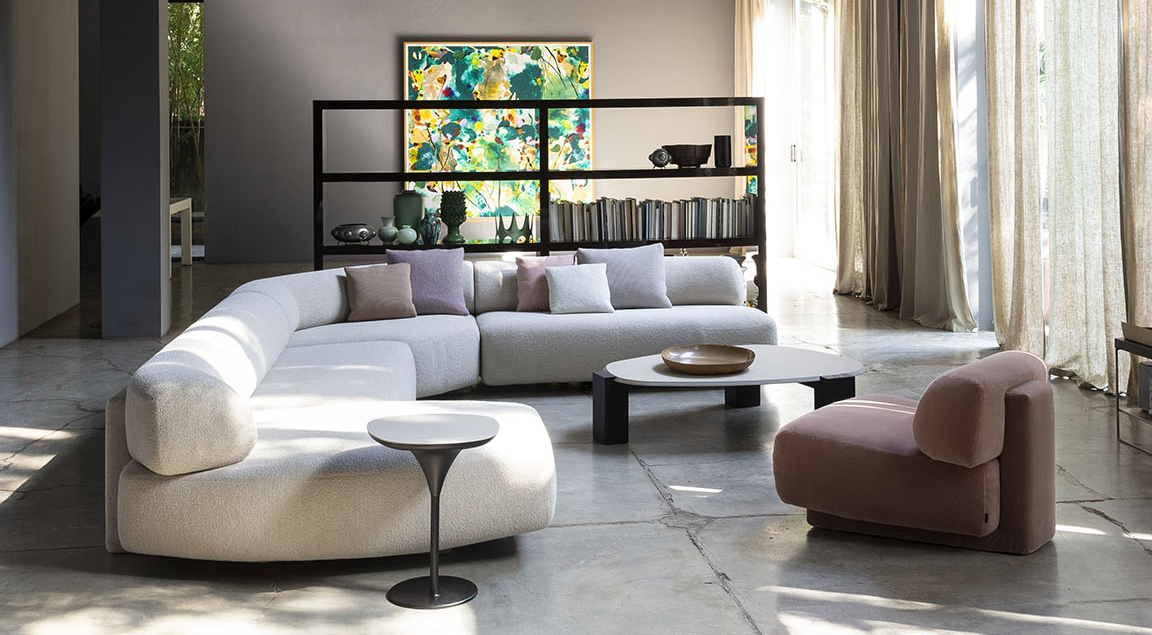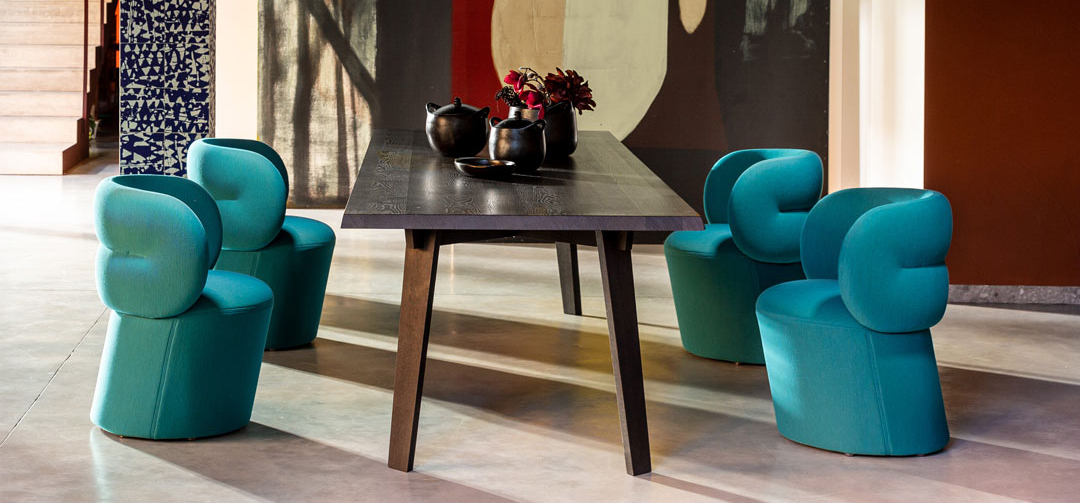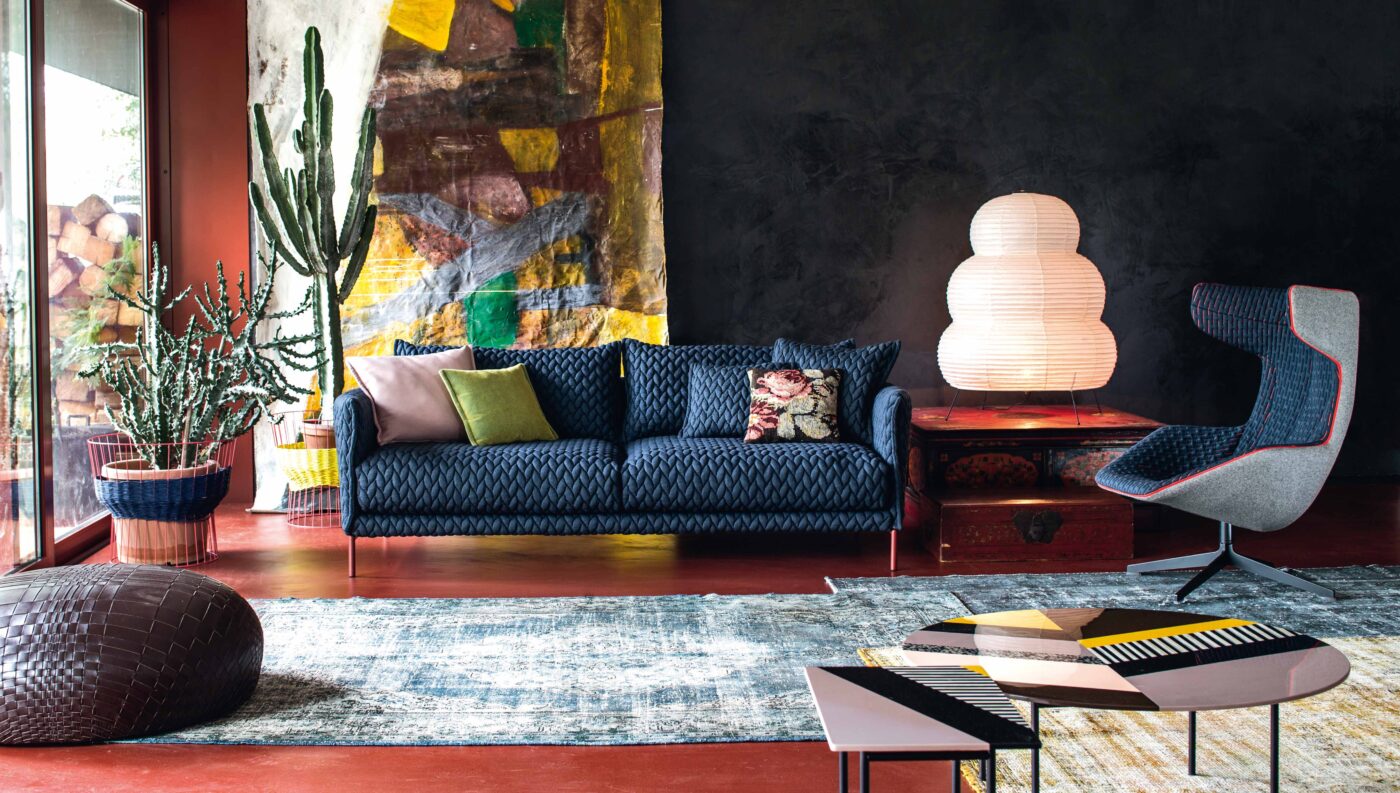 De Gogan sofa en bijbehorende loungechair danken hun naam aan Japanse stenen die door het langsstromende water worden gevormd in allerlei ronde vormen. Door te spelen met de zwaartekracht lijkt het net of de bank zweeft. Om de Gogan familie compleet te maken is er ook een coffeetafel toegevoegd. Te herkennen aan de grove poten en de top in dezelfde ronde asymmetrische vormen. Voor het ontwerp van de Ruff & GetLucky armchairs zocht Urquiola haar inspiratie iets dichter bij huis, namelijk bij de Spaanse beeldhouwer Eduardo Chillida. De naam Ruff komt van de grote molensteen kragen uit de 16e eeuw. De GetLucky chair heeft de vorm van een gelukbrengend hoefijzer.
Moroso sluit 2020 dus af met een uitgebreide nieuwe collectie, die naadloos aansluit op de huidige trends.